Model:HCT-UHFR-10804-D
Size:310mmx210mmx41mm
GENERAL DESCRIPTION
HCT-UHFR-10804-D is a high performance UHF RFID fixed reader. It is designed upon fully
self-intellectual property. Based on proprietory efficient digital signal processing algorithm, it supports
fast tag read/write operation with high identification rate. It can be widely applied in many RFID
application systems such as logistics, access control, anti-counterfeit and industrial production
process control system.
FEATURES
 Self-intellectual property;
 Designed with Impinj R2000 RFID engine;
 Support ISO18000-6C(EPC C1G2) , ISO18000-6B protocol tag;
 860~868MHz/902~928MHz frequency band(frequency customization optional);
 FHSS or Fix Frequency transmission;
 RF output power up to 30dbm(adjustable);
 4 TNC antenna port with antenna auto-tuning and failure-detection;
 Support auto-running, answer, trigger and real-time-inventory work mode;
 Tag buffer size up to 800PCS (Max. 496bits EPC length);
 Support EPC and TID inventory;
 Low power dissipation with single +9 DC power supply;
 Support RS232, RS485, RJ45(TCPIP) with WiFi and POE optional;
 High reliability design;
 Support on-the-site firmware upgrading and optional Wince or Linux Operation System.
CHARACTERISTICS
 Absolute Maximum Rating
Electrical and Mechanical Specification
Under TA=25℃,VCC=+9V unless specified
MECHANICAL DATA(UNIT mm):
INTERFACE
1.Power J1

2.WiFi Antenna J2 (SMA Female)
3. USB J3 (Slave)
4. USB J4 (Reserved)
5. TCPIP RJ45 Socket J5
6. UART J6 (RS232 DB9 Female)

7. GPIO J7 (DB15 Female)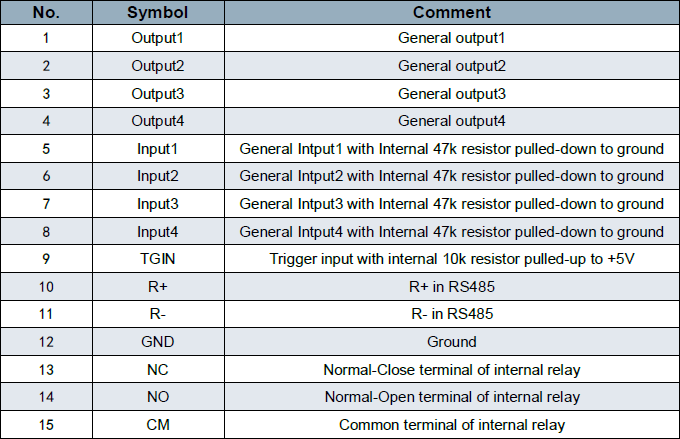 8.TNC Antenna Port1~Port4 J8~J11

9.LED indicator